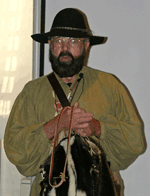 The 2005 William B. Marye Award was presented to Robert L. Bantz, Sr. His long effort to research details of the Braddock Road and present that information to the public was recognized in this award.
Robert is a self-taught historian and expert on the French and Indian Wars who has made a significant contribution to Maryland archeology through field documentation of Braddock's Road. Inspired by the early 20th century pioneering work of Harvard professor John Kennedy Lacock, he has laboriously researched, relocated, walked, and documented the remaining traces of the road built by Braddock's 1775 military expedition through the wilderness of western Maryland. He has used old maps, journals, and global positioning technology to definitively plot most of the 36 1/2 miles of road remnant in Maryland.
Additionally, he has readily shared his findings with professional archeologists and historians so that the trace could be formally recorded in the Maryland State Archeological Inventory and more easily protected. Robert works hard to increase awareness of and to preserve important sections of the road. He has participated in many interpretive activities designed to educate the general public and has posted information about the road on the internet. His slide shows and living history make him a noted speaker on the subject. The Maryland Department of Natural Resources has recently erected signs to mark portions of the trace in Savage River State Forest.
In addition to his work on Braddock's Road, Robert has served as Vice-President of the Western Chapter of the Archeological Society of Maryland and regularly participates in that chapters work at the Barton prehistoric village site. According to historian Robert Adamovicn, Robert has done more than anyone to save Braddock's Road. "What he's done is an absolute national treasure. It's a lifetime achievement ... which all Americans can be proud of."