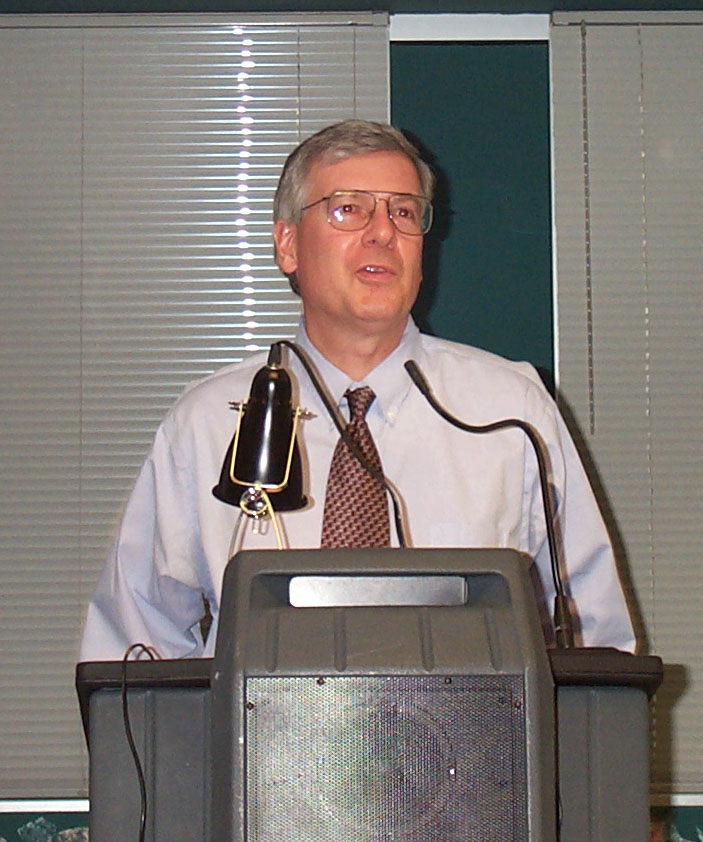 The strength of Maryland archeology in the beginning of the 21st Century owes much to the efforts of Richard B. Hughes. He has been a leader in Maryland archeology since the 1980s, sometimes in high profile and politically difficult situations, but more often behind the scenes, and he embodies all that Maryland archeologists could be and could hope to be.
For two decades Richard has demonstrated his commitment to archeology in Maryland by leading the fight to increase the funding of archeological programs and the support of archeological organizations statewide, thereby promoting the protection, study and interpretation of the state's rich archeological resources. The Archeological Society of Maryland couldn't find a more deserving recipient of its highest honor, the William B. Mayre Award, than Richard B. Hughes.
As chief of the Maryland Office of Archeology, Richard played an integral role in the implementation of the unique Maryland Maritime Archeological Program in 1988.
Richard has taken a leading role in building a much-needed bridge between Maryland's archeological and Indian communities. For 20 years he has emphasized the need for reciprocal education, collaboration and ongoing dialogue between Maryland's archeologists and Native people, as well as the need for a revised protocol for managing unanticipated discoveries of indigenous human remains. Native American community leaders and MCIA (Maryland Commission on Indian Affairs) commissioners have attributed the visible improvements in cooperation and mutual respect to Richard's efforts and have said that they are "positively impressed" by the care that he has taken to respect their wishes and values.
Richard's commitment to public outreach and education in Maryland archeology is without parallel. He was a principal proponent and organizer of the annual Archeology Workshop, Spring Symposium, field school and Maryland Archeology Month. Their continued success is largely due to his efforts. He has played a crucial role in Maryland Historical Trust publications, most recently Maryland Aloft: A Celebration of Aviators, Airfields and Aerospace, 200 pages detailing Maryland;s rich aviation history from the Wright Brothers' flights at College Park Airport to space flights at Goddard. Richard's own publications include Common Point Types on the Lower Eastern Shore of Maryland (1980), A Cultural and Environmental Overview of the Prehistory of Maryland's Lower Eastern Shore Based Upon a Study of Selected Artifact Collections(1980) and recently Forging New Partnerships: Archaeologists and the Native People of Maryland, co-authored with Dixie Henry, in the edited volume Cross-Cultural Collaboration: Native Peoples and Archaeology in the Northeastern United States.
In his current position as the chief of the Office of Heritage Planning and Outreach, Richard is working more specifically on how to better incorporate a consideration of archeological resources and issues into the Trust's heritage tourism and local government technical assistance programs.