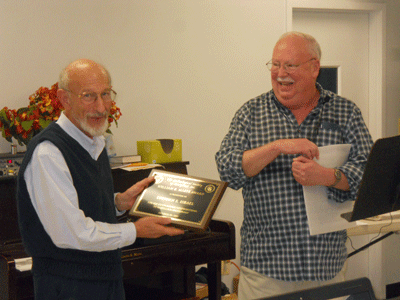 The 2012 recipient of the William B. Marye Award, Stephen Israel has made particularly outstanding and lasting contributions to several areas of Maryland archeology. Stephen is well known for his willingness to take on almost any task that will further the cause of Maryland Archeology and his generosity with his time in assisting and guiding avocational archeologists.
The award committee notes his long years of service to this community. Following military service, which included a deployment to Viet Nam,, Stephen completed his Masters Degree in Anthropology at the University of Oklahoma in 1969. From 1976 until his retirement in 2003 he worked as an archeologist for the US Army Corp of Engineers with responsibility for research activity in four states. His work outside of official duties include assisting archeologists in Maryland and surrounding states as well. In 2007, the Archeological Society of Virginia presented him with their Out-Of_State Award for Outstanding Service to the Commonwealth of Virginia archeology.
Stephen is a regular and enthusiastic participant in all forms of ASM meetings and related activities. ASM can always count on him to support CAT program activities as well as the Annual Field Sessions. He is a frequent contributor to Maryland Archeology, our official journal. He is also active with the Council for Maryland Archeology, the Eastern States Archaeological Federation, the Middle Atlantic Archaeological Conference, and archeological organizations in several states.