Presented by the

Archeological Society of Maryland, Inc.,
and the
Maryland Historical Trust
Office of Archeology

Saturday, April 16th, 2005
Crownsville, Maryland
---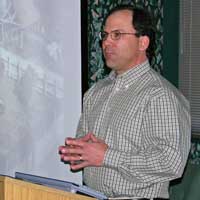 London Town's Rumney-West Tavern: Exploring the Past with New Technologies
John Kille, Lost Towns Project
Mr. Kille discussed the design and creation of an interactive animated computer exhibit to be installed in a new museum facility under construction at Historic London Town and Gardens. This educational multimedia presentation has been developed to enable visitors to explore and navigate the interior of London Town's ca. 1724 Rumney-West Tavern. An animated tavern scene features period architectural elements, furnishings within the building's interior, and the arrangement of glass and ceramic vessels as part of table settings. Interactive components are directly tied to archaeological excavations and historical research, and are accompanied by narration and period music.
---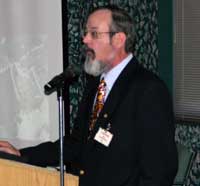 New Tools for old Towns: GIS and Virtual Reality Modeling at Maryland's First Capital
Silas Hurry, Historic St. Mary's City
Using GIS, Historic St. Mary's City, in conjunction with students from the Department of Math and Computer Sciences at St. Mary's College of Maryland has begun the process of developing four-dimensional models of the City and specific buildings within the city. Using an interface similar to a flight simulator, the virtual modeling will let researchers "fly" through space and time. This presentation will review the steps we have taken to get to this point and detail current progress and plans for the future.
---
Geophysical Prospection for Unmarked Graves in an Operational Historic Cemetery
William J Chadwick, John Milner Associates, Inc.
A non-invasive ground-penetrating radar survey was undertaken within the Ebenezer Cemetery in St Mary's County, Maryland, to identify the locations of unmarked graves in advance of the realignment of MD 237. This geophysical survey revealed hundreds of anomalies attributed to marked and unmarked graves within the cemetery's boundaries. One proposed alternative would have affected nearly one hundred of those anomalies attributed to unmarked graves. The survey resulted in the abandonment of the alternatives that would have affected the areas where potential unmarked graves were located.
---
Data Recovery Investigations at the Wachtel/Stine Cemetery (Site 18WA470), Washington County, Maryland
William Lowthert and Christopher Polglase, Goodwin and Associates
In this project, remote sensing was used to help locate burials that would be impacted by the Forty West Landfill, in Washington County, MD. The Wachtel/Stine Cemetery, on land that belonged to John Wachtel and his heirs, contained members of the extended Wachtel, Stine, Troup, and Kershner families, part of the local German-American community from the late eighteenth through the mid-nineteenth centuries. Analysis following exhumation suggests possible familial relationships between individuals buried in different parts of the cemetery.
---
The Application of Remote Sensing and Geographic Information Systems (GIS) to Site Location Predictive Models
Bill Dickinson, IMPACT Science and Technology
Exploitation of remote sensing and GIS for real-world needs such as land use management, urban planning and many other allied fields of endeavor is well documented. However, there have been limited applications of these technologies to the unique needs of properly managing cultural resources and inadequate research in combining remote sensing and predictive models into a cohesive tool. This paper is a brief overview on the development of such a tool within the context of the NASA Goddard Space Flight Center property in Greenbelt, MD, and the Woodland period, c. 1000 BC to 1000 AD.
---
Where Yesterday is Today: The Rectification of John Smith's 1612 Map of the Chesapeake Bay and the Nanticoke River
Michael S. Scott, PhD, Eastern Shore Regional GIS Cooperative,Salisbury University
In light of the forthcoming anniversary of the founding of Jamestown, there is an interest in linking the locations Captain John Smith placed on his 1612 map with their present-day coordinates. This project used sophisticated digital mapping and spatial statistical analysis to scientifically compare the location of the town of Vienna with the mapped depiction of the Nanticoke River and its associated Native American villages as recorded by Smith in 1608. The results will be presented, demonstrating both the opportunities and the problems associated with linking historical maps with the geography of today.
---
Marine Remote Sensing and GIS at Washington College
Christian Mears, Washington College
The goal of this paper is to present Washington College's equipment and capabilities for remote sensing in the marine environment, as well as our recently established Geographic Information Systems (GIS) laboratory. Following this will be a brief overview of some recently completed projects in which we incorporated the survey data and various maps into a GIS database, and the benefits that provided.
---